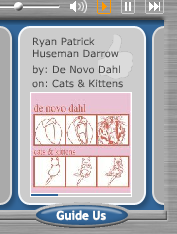 I just wanted to say that it was pretty cool that Pandora a) has De Novo Dahl's Cats and Kittens in their catalog and 2) thinks I'd like them.
Of course, I do love the De Novo Dahl. They are a great band and a great bunch of guys/girl.
And as a side note — if you have a Mac and like Pandora, you should try PandoraBoy. It's a good free app with a stupid name that plays Pandora without a browser. That's not the good part though. It will also let you control Pandora (including like/dislike) with the Apple Remote, and posts notifications to Growl. So, now I can hook the ol' MacBook up to the stereo and listen to Pandora radio around the house. I also created a giant Growl display style so I can read it from across the room.